---

Great Location & Super Clean. Private furnished rooms in Roppongi, Akasaka,Azabu-Juban and Minami Shinagawa, all within 2min walk from station. Female only floor available. Cleaned every week, free internet, air conditioning, fridge in every room. No Key money/guarantor/agent fee. First month Special Offer! 090-2405-0022. mail@bauhousetokyo.com
---
---
| | |
| --- | --- |
| | Nishi Azabu - 1 LDK -¥105,000/m Sunny, clean double corner apt. Elevator, roof access, No key money, no agency, free guarantor, ¥50,000 sec deposit. Roppongi, 10 min walk. Contact Rob at Advance International 090-3691-5579, yoyogirob(at)gmail.com |
---
Fujimigaoka Roka Mansion (Setagaya-ku, Tokyo) Sta: Fujimigaoka 11 min. (Keio Inogashira Line) Rent: ¥59,000/M Facility: ¥5,000+/M Space: 25.0sqmt (1BR+K+BT)
* AC, 2F, CATV, Balcony, Direct access to Shibuya & Shinjuku.
GOOD ROOM TOKYO
Tel. 03-3475-0510
www.goodroom.online
---
Silver House (Suginami-ku, Tokyo)
Sta: Takaido 7min. walk (Keio Inogashira Line) Rent: ¥60,000/M Facility: ¥3,000+/M
Space: 24.3sqmt (1B+K+BT)
* 2F, AC, Residential area
GOOD ROOM TOKYO
Tel. 03-3475-0510
www.goodroom.online
---
Grace Okura Mansion (Machida-city, Tokyo) Sta: Tsurukawa 15min. walk (Odakyu Odawara Line) Rent: ¥58,000/M Facility: ¥5,000+/M Space: 44.2sqmt (1BR+K+BT)
* AC. 2F, For family, Balcony
GOOD ROOM TOKYO
Tel. 03-3475-0510
www.goodroom.online
---
Omori Santo Mansion (Ota-ku, Tokyo)
Sta: Omori 10 min. (Keikyu Line) Rent: ¥87,000/M Facility: ¥5,000+/M Space: 42.0sqmt (1BR+K+BT)
* AC, 2F, CATV, For Couple, Family. Ro0m Share Okey, Balcony. Good access to Tokyo, Yokohama & Haneda Airport.
GOOD ROOM TOKYO
Tel. 03-3475-0510
www.goodroom.online
---
Fussa Twin Apartment (Fussa-City, Tokyo) Sta: Haijima 4min. walk (JR Ohme Line) Rent: ¥52,000/M Facility: ¥5,000+/M Space: 39.0sqmt (2B+K+BT) .
* 2F, CATV, 2 person Okey, Balcony, AC,
GOOD ROOM TOKYO
Tel. 03-3475-0510
www.goodroom.online
---
Ayase No.5 Mansion (Katsushika-ku, Tokyo) Sta: Ayase 6min. walk (Subway Chiyoda Line) Rent: ¥52,000/M Facility: ¥5,000+/M
* AC. 5F, Good view, Elevator, Balcony, Bicycle parking, Security
GOOD ROOM TOKYO
Tel. 03-3475-0510
www.goodroom.online
---
Stork Kita-shinjuku Apartment (Shinjuku-ku, Tokyo) Sta: Shinokubo 13 min. (JR Yamanote Line) Rent: ¥68,000/M Facility: ¥5,000+/M Space: 24.3sqmt (1BR+K+BT)
* AC, 2F, CATV, Elevator, Walking distance to Shinjuku
GOOD ROOM TOKYO
Tel. 03-3475-0510
www.goodroom.online
---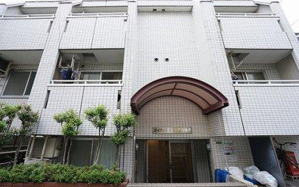 Plaza Nishinippori Apartment (Arakawa-ku, Tokyo) Sta: Nishinippori 9 min. (JR Yamanote Line) Rent: ¥52,000/M Facility: ¥5,000+/M
Space: 15.9sqmt (1BR+K+BT)
* AC, 2F, CATV, Fridge
GOOD ROOM TOKYO
Tel. 03-3475-0510
www.goodroom.online
---
Asagaya Kita Apartment (Suginami-ku, Tokyo) Sta: Asagaya 10min. walk (JR Chuo Line) Rent: ¥52,000/M Facility: ¥3,000+/M
Space: 14.1sqmt (1B+K+BT)
* 2F, AC, Balcony, Studio type.
GOOD ROOM TOKYO
Tel. 03-3475-0510
www.goodroom.online
---
| | |
| --- | --- |
| | Tokyo rooms starting from just 1,400 yen/day. Minimum stay 30 days. Furnished apartments, share houses & dormitories with free Wi-Fi. 1,100 rooms in 110 Tokyo area locations. Visit the SAKURA HOUSE web site at www.sakura-house.com or call 03-5330-5250. Multilingual staff. |
---

¥39,000~¥69,000 (All Included) / m for all private furnished rooms in downtown Tokyo. Komazawa, Roppongi, Yoga, Akasaka, Ginza, Asakusa.
Twin bed available. For more informstion,
090-3674-0866 www.tokyointerhouse.com
全室個室ですので女性の方にも安心・安全です。インターネット家具付きだからトランクひとつでお気軽にどうぞ!
---
<! end Guest House & Real Estate !>
---
Toyotama-kita Flat (Nerima-ku, Tokyo) Sta: Sakuradai 7min. walk (Seibu-Ikebukuro Line) Rent: ¥48,000/M Facility: ¥3,000+/M
Space: 15.1sqmt (1B+K+BT)
* 4F, AC, Good view, Studio type room.
GOOD ROOM TOKYO
Tel. 03-3475-0510
www.goodroom.online
---
Nagaura Apartment (Adachi-ku, Tokyo) Sta: Kitaayase 15min. walk (Subway Chiyoda Line) Rent: ¥45,000/M Facility: ¥2,000+/M Space: 31.5sqmt (1BK+BT) . * 1F, Old Japanese Apartment, Large Tatami room, Couple or family OK, Balcony, AC
GOOD ROOM TOKYO
Tel. 03-3475-0510
www.goodroom.online
---
Sakae Haimu Apartment (Koganei-city, Tokyo) Sta: Higashi-koganei 7min. walk (JR Chuo Line) Rent: ¥40,000/M Facility: ¥4,000+/M Space: 12.6 (1BR+K+BT) * AC. 2F, Clean, Loft Bed, Fridge, Balcony, Studio
GOOD ROOM TOKYO
Tel. 03-3475-0510
www.goodroom.online
---
Furnished private 6-tatami-room in a unit of a quiet condominium..32,000 yen. No key money. Deposit 20,000yen. free Wi-Fi. Good location. Supermarket and Seven-Eleven nearby.9 minutes to station of Wako-shi on Tojo Line.12 minutes from Ikebukuro. Yurakucho subway line and Fukutoshin Line (Shibuya, Yokohama) available.. Owner is translator of French & English interested in cross-cultural exchange. Long stay welcome.
(048) 466-3665 IDA
---
Hino Castle Mansion (Hino-City, Tokyo) Sta: Hino 15min. walk (JR Chuo Line) Rent: ¥31,000/M Facility: ¥4,000+/M Space: 18.0sqmt (1BK+BT) . * 3F, CATV, Good view, Balcony, AC
GOOD ROOM TOKYO
Tel. 03-3475-0510
www.goodroom.online
---
Sunny Home Fuchu (Katsushika-ku, Tokyo) Sta: Yaho 11min. walk (JR Nanbu Line) Rent: ¥32,000/M Facility: ¥3,000+/M
Space: 17.3sqmt (1B+K+BT)
* 1F, AC, IH cooking heater
GOOD ROOM TOKYO
Tel. 03-3475-0510
www.goodroom.online
---
Sunamachi Heights (Tachikawa-City, Tokyo) Sta: Musashisunagawa 5min. walk (Seibu Haijima Line) Rent: ¥28,000/M Facility: ¥5,000+/M Space: 22.2sqmt (1B+K+BT) .
* 2F, CATV, Large Studio room, Clean, AC, About 50min to Ikebukuro.
GOOD ROOM TOKYO
Tel. 03-3475-0510
www.goodroom.online
---
Takasago Daini Apartment (Katsushika-ku, Tokyo)
Sta: Aoto 12min. walk (Keisei Line)
Rent: ¥38,000/M Facility: ¥5,000+/M Space: 17.9sqmt (1B+K+BT)
* 1F, AC, Walking distance to Tokyo Skytree
GOOD ROOM TOKYO
Tel. 03-3475-0510
www.goodroom.online
---
Koyanagi Apertment (Fuchu-City, Tokyo) Sta: Tamareien 5min. walk (Keio Line)
Rent: ¥35,000/M Facility: ¥5,000+/M Space: 19.5sqmt (1BR+K+BT)
* AC. 1F, Loft Space, Balcony, Bicycle parking
GOOD ROOM TOKYO
Tel. 03-3475-0510
www.goodroom.online
---
Matsunoki Nichome Apartment (Suginami-ku, Tokyo) Sta: Shinkoenji 12min. walk (Subway Marunouchi Line) Rent: ¥45,000/M Facility: ¥4,000+/M Space: 9.3sqmt (Studio+BT) . * 1F, CATV, Loft Bed space, Clean, AC, Residential area.
GOOD ROOM TOKYO
Tel. 03-3475-0510
www.goodroom.online
---

Private Furnished Rooms ¥39,000~¥69,000 (All Included) / m Komazawa, Yoga, Asakusa, Shinbashi. 女性も安心!全室インターネット、家具付き個室 お気軽に
090-3674-0866 www.tokyointerhouse.com
---

Dormitory 24,000yen-33,000yen/30days.
TenTen GH,8mins walk from JR-takadanobaba sta.(near Shinjuku) 女性専用部屋あり!
http://www.tokyo-guesthouse.com TEL 070-5652-8628.(10:00-20:00)
---

Dormitory 27,000yen-33,000yen/30days. GH Shinjuku. 1min. walk from Waseda sta. (Toei Arakawa Tram line). http://www.guesthouse-shinjuku.com 日本人も大歓迎!!
Call 070-5652-8628. (10:00-20:00).
---

Dorms in Kagurazaka, Shijuku-ku.27, 000yen/30days?3 mins from Metro Tozai Line, Kagurazaka Sta. Tel: 070-5016-1163, Web: www.guest-house-tokyo.com 
Female dorm available. 女性ドミ有。
---
---
Furnished private rooms in Osaki, central Tokyo (Yamanote line). Super convenient location, 6 mins from station, 1 min to Lawson, 5 mins to LIFE supermarket. Spacious 162 sqm home, shared by 5-6 adults, 2 toilets, 2 sinks, 2 washing machines, fully-equipped kitchen, large living/dining & tatami rooms, storage room, balcony. NO KEY MONEY OR DEPOSIT. ¥60,000/¥75,000 depending on room. Price includes Utilities, Wifi, weekly cleaning. Long term preferred. Best place to live in the heart of Tokyo. 日本人も大歓迎
Email: ekayumi@yahoo.ca Kayumi

---
M・K TOKYO
★3 minutes to Ikebukuro, 7 minutes to Shinjuku and 14 minutes to Shibuya Good access!!
★Building interior is the theme of Cebu language school ★The latest, comfortable, stylish home appliances are enriched ★Auto lock type card key system, unlimited internet use Room rent: Dormitory 39,000 yen, Private 55,000 yen ~ No Key money/guarantor/agent fee https://tokyosharehouse.com/eng/house/detail/3018/
E-mail: mkt@sharelife.co.jp
Facebook:https://www.facebook.com/ShareLifeJPN
---
Seiseki Share House (Tama City, Tokyo) Sta: Seisekisakuragaoka 3min. walk (Keio Line) Rent: ¥30,000/M Facility: ¥15,000+/M Space: 10.8sqmt (1BR) Share Kitchen, Bath, Large common Living Room. * Private Bed Room, AC, 1F, Male & Female
GOOD ROOM TOKYO
Tel. 03-3475-0510
www.goodroom.online
---

【J&F House Shinjuku】
Fully furnished share house available 3min walk from TOKYO METRO SHINJUKU 3-CHOME STATION. No agent fee, no key money, no guarantor. Free internet services avaialble. Rent 78,000yen (including utilities) Tel: 03-6455-0360 We have more properties! 日本語でもお問い合わせください!J & F HOUSE Tel: 03-6455-0360 
e-mail: info@jafplaza.com
http://www.jafnet.co.jp/plaza/en/?action_obj
=Estate&action=detail&estate_code=1&room_code=1
---
---
---
Narihira Office & Bed (Sumida-ku, Tokyo) Sta: Oshiage 3min. walk (Subway Asakusa Line) Rent: ¥52,000/M Facility: ¥4,000+/M
Space: 7.5sqmt (1B loft+Toilet&Shower+Desk)
* 2F, AC, Near Tokyo Skytree, Soho Office. Refrigerator.
GOOD ROOM TOKYO
Tel. 03-3475-0510
www.goodroom.online
---
Ikebukro Tosen Building (Toshima-ku, Tokyo) Sta: Ikebukuro 10min. walk (Yamanote Line)
Rent: ¥39,600/M Facility: ¥3,000+/M Space: 5sqmt (1BR+K+BT)
* 6F, AC, Share Toilet and Shower, Office OK
GOOD ROOM TOKYO
Tel. 03-3475-0510
www.goodroom.online
---

Stylish Office & Teaching Space 2min from Harajuku Stn. Conference room, communication space, traditional tea ceremony room, all for rent. Perfect for private teaching lessons.Color laser printer, triple-locking system for security, dedicated internet lines in every room, From ¥49,000/m. Short term OK. 090-2405-0022 mail@bauhousetokyo.com
---
---
| | |
| --- | --- |
| | Mayflower Osaka guesthouse, located in central Osaka, private room with kitchen, toilet & bath 46,000/month~. Please call 03-3560-7405 or 080-5436-1777. |
---

Naha, Okinawa. Guesthouse 'Kerama' 1000yen/day~. tel:098-863-5898 http://www.guesthouse-okinawa.com/index-english.html CamCamOkinawa 800yen/day~. Tel: 098-863-0022 http://www.camcam-okinawa.com/
---
---

ADS WANTED
---
---

The house is convenient located close to various transport. The Asakusa line, the Ginza line, the Tsukuba express, various bus lines to move to other areas in Tokyo. A comfortable private bedroom with air conditioner, wardrobes, table & chair, a low drawer unit and a queen size bed. There is a shared kitchen and bathroom. Free Wi-Fi access unlimited. Price: \45,000/month + Utilities fee \10,000/month (Deposit \15,000) If you want to enjoy living in clean space, cool and nice apartment, please contact us answer to the following questions inside your message. 1. From which date will you need the room (date of beginning of rent). 2. For how long will you need the room (date of end of rent). 3. Your purpose of staying in Tokyo. 4. Your age and activity (what kind of work or study). E-mail = ma.maison.a.tokyo(at)gmail.com
---
I am looking for a roommate in a large (200m2) private house with a yard, sun-room, BBQ, bathtub, and space/garage for bike, scooter, or motorcycle. This is a large private sunny room, in a large private house located in a somewhat secluded area just outside Tokyo. Great for someone who likes privacy, peace and quiet, cooking, running, biking, gardening or the general outdoors. Perfect for those who often work from home! The house is not new (not so old either) but the size high ceilings (bigger in real life) and design/layout make it quite unique in Japan. The main shared shower/bathtub, toilet, large kitchen, living/dining, and sun-room are all on the ground floor. The room is on the second floor with a large double sliding doors and a very nice view. Includes a bed, large dresser/closet, large closet, storage, shared balcony, and wall AC/Heater unit. There is a shared toilet, 1 burner stove, faucet/sink area on the second floor just outside the room.
The Arakawa River is 4 min walk away which is ideal for runners, bikers or those who just enjoy walks and the outdoors. You can Google the postal code (3380816) to get a better idea of the location. About a 20 min walk to Saitama University. The nearest stations are: Minami Yono(Saikyo), Naka Urawa(Saikyo), Kita Urawa (Keihin-Tōhoku Line) Shiki (Tobu Toju), Urawa(Takasaki,Utsunomiya, Shonan-Shinjuku, Keihin-Tohoku). There are several bus stops between 4-7 min walk and the nearest 7-11 convenience store is about 7-8 min walk. Ikebukuro is 30 min from Minami Yono station. * NO guarantor required * NO key money required * NO management fee * NO realtor service fee * NO renewal fee * NO hidden fee's * IMMEDIATELY available - JPY35K mo (Utils, WIFI not included) - 1st mo rent; 1 mo deposit to move in *Negotiable
- Pet(s) *Negotiable - 1br - 19m2 - (Saitama South/Sakura) - Short term (1 wk min) *Negotiable
E-mail = ejd_1ne(at)yahoo.com
---

1 day 3,000 yen. short days. I cook for you. Good hospitality.
I hope you can relax rest here.
tomoko-japonm@excite.com
---

Free room for language exchange in Yokohama, I am a Latin businessman, I am looking for a woman to share culture and business any nationality is welcome Email: loveclave@hotmail.com
---
Cozy room is waiting for new tenant.
There is a bed, TV, private refregilator, microwave. Utility which is electric, gas,wifi and water is included.
the rent is 65000yen.
the location is great, there is a lowson in front of this building and 5 minits walk take you to Ohyama station, Tobu Tojo line. E-mail =takaness@gmail.com
---
Large sunny private room. All furnished.
Very convenient location, a lot of shops around the building and 5min walk to nearest station.
Close to Shinjuku, Shibuya, Harajuku, Shimokitazawa, Sangenjyaya etc...
E-mail =718fifthavenue@gmail.com
---
Links


Private furnished rooms in Tokyo with free internet. Call us first or call us last!

Hassle free moving starts from 6000yen.


Very flexible working hours to effectly help you with moving, deliveries, disposal, storage and more!

We'll cut you the best air ticket deals anywhere.

Discount air travel & package tours 2min from Roppongi Stn.

We go the extra mile for you. International air tickets and hotels.

Top-value travel to Kyoto, Osaka, Nagoya from Tokyo by Shinkansen.

| | |
| --- | --- |
| All kinds of Visa, Immigration & Naturalization, International Marriage etc. | Licensed immigration lawyer & certified public tax consultant. |
American Pharmacy

English speaking pharmacy since 1950.

EU-licensed multi lingual doctors.
Japanese Appliance, Watch, Souvenirs

1st Sat. & 3rd Sun. at Bari n Roppongi ETC.


Picnic, Parties, Language exchange
| | |
| --- | --- |
| Japanese women & Western men. | |