---

Great Location & Super Clean. Private furnished rooms in Roppongi, Akasaka,Azabu-Juban and Minami Shinagawa, all within 2min walk from station. Female only floor available. Cleaned every week, free internet, air conditioning, fridge in every room. No Key money/guarantor/agent fee. First month Special Offer! 090-2405-0022. mail@bauhousetokyo.com
---
---
Fussa Twin Apartment (Fussa-City, Tokyo) Sta: Haijima 4min. walk (JR Ohme Line) Rent: ¥52,000/M Facility: ¥5,000+/M Space: 39.0sqmt (2B+K+BT) .
* 2F, CATV, 2 person Okey, Balcony, AC,
GOOD ROOM TOKYO
Tel. 03-3475-0510
www.goodroom.online
---
Ayase No.5 Mansion (Katsushika-ku, Tokyo) Sta: Ayase 6min. walk (Subway Chiyoda Line) Rent: ¥52,000/M Facility: ¥5,000+/M
* AC. 5F, Good view, Elevator, Balcony, Bicycle parking, Security
GOOD ROOM TOKYO
Tel. 03-3475-0510
www.goodroom.online
---
Stork Kita-shinjuku Apartment (Shinjuku-ku, Tokyo) Sta: Shinokubo 13 min. (JR Yamanote Line) Rent: ¥68,000/M Facility: ¥5,000+/M Space: 24.3sqmt (1BR+K+BT)
* AC, 2F, CATV, Elevator, Walking distance to Shinjuku
GOOD ROOM TOKYO
Tel. 03-3475-0510
www.goodroom.online
---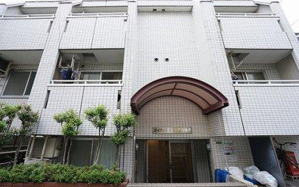 Plaza Nishinippori Apartment (Arakawa-ku, Tokyo) Sta: Nishinippori 9 min. (JR Yamanote Line) Rent: ¥52,000/M Facility: ¥5,000+/M
Space: 15.9sqmt (1BR+K+BT)
* AC, 2F, CATV, Fridge
GOOD ROOM TOKYO
Tel. 03-3475-0510
www.goodroom.online
---
Asagaya Kita Apartment (Suginami-ku, Tokyo) Sta: Asagaya 10min. walk (JR Chuo Line) Rent: ¥52,000/M Facility: ¥3,000+/M
Space: 14.1sqmt (1B+K+BT)
* 2F, AC, Balcony, Studio type.
GOOD ROOM TOKYO
Tel. 03-3475-0510
www.goodroom.online
---
Purandool Chitose Mansion (Setagaya-ku, Tokyo) Sta: Chitosefunabashi 9min. walk (Odakyu Line) Rent: ツ・69,000/M Facility: ツ・4,000+/M Space: 28.3sqmt (1BR+DK+BT)
* AC. 3F, Facing South, Large Balcony, Windows in every room.
GOOD ROOM TOKYO
Tel. 03-3475-0510
www.goodroom.online
---
Ukima River Height (Kita-ku, Tokyo)
Sta: Ukimafunato 6min. walk (JR Saikyo Line) Rent: ¥79,000/M Facility: ¥5,000+/M
Space: 43.0sqmt (2B+DK+B+T)
* 2F, AC, Good for couple, family, Sunshine, Balcony, Elevator
GOOD ROOM TOKYO
Tel. 03-3475-0510
www.goodroom.online
---
Tsukishima Supreme Mansion (Chuo-ku, Tokyo) Sta: Tsukishima 1 min. (Subway Yurakucho Line) Rent: ¥79,000/M Facility: ¥5,000+/M Space: 21.7sqmt (1BR+DK+BT)
* AC, 1F, BS, Walking distance to Ginza. Very clean.
GOOD ROOM TOKYO
Tel. 03-3475-0510
www.goodroom.online
---
Saginomiya Young House (Nakano-ku, Tokyo) Sta: Saginomiya 5min. walk (Seibu-Shinjuku Line) Rent: ¥65,000/M Facility: ¥4,000+/M Space: 23.7sqmt (1BR+K+BT)
* AC. 1F, Bicycle Parking, Wooden floor
GOOD ROOM TOKYO
Tel. 03-3475-0510
www.goodroom.online
---
Okubo Fuji Apartment (Shinjuku-ku, Tokyo) Sta: Okubo 1 min. (JR Sobu Line) Rent: ¥76,000/M Facility: ¥4,000+/M Space: 22.0sqmt (1BR+DK+BT) * AC, 2F, BS, Walking distance to Shinjuku. Little Asia area. Very clean.
GOOD ROOM TOKYO
Tel. 03-3475-0510
www.goodroom.online
---
Hoya-Clair Height (Nishi-Tokyo City, Tokyo) Sta: Hoya 14min. walk (Seibu Ikebukuro Line) Rent: ¥75,000/M Facility: ¥5,000+/M
Space: 48.8sqmt (2B+DK+B+T)
* 3F, AC, Good for couple or family, Sunshine, Balcony
GOOD ROOM TOKYO
Tel. 03-3475-0510
www.goodroom.online
---
MitakaBranche Mansion (Mitaka City, Tokyo) Sta: Mitaka 1 min. (JR Chuo Line) Rent: ¥61,000/M Facility: ¥5,000+/M Space: 20.7sqmt (1BR+DK+BT) * AC, 3F, BS, Just 1mi walk to the station. Shopping area, Very clean.
GOOD ROOM TOKYO
Tel. 03-3475-0510
www.goodroom.online
---
| | |
| --- | --- |
| | Tokyo rooms starting from just 1,400 yen/day. Minimum stay 30 days. Furnished apartments, share houses & dormitories with free Wi-Fi. 1,100 rooms in 110 Tokyo area locations. Visit the SAKURA HOUSE web site at www.sakura-house.com or call 03-5330-5250. Multilingual staff. |
---

¥39,000~¥69,000 (All Included) / m for all private furnished rooms in downtown Tokyo. Komazawa, Roppongi, Yoga, Akasaka, Ginza, Asakusa.
Twin bed available. For more informstion,
090-3674-0866 www.tokyointerhouse.com
全室個室ですので女性の方にも安心・安全です。インターネット家具付きだからトランクひとつでお気軽にどうぞ!
---
<! end Guest House & Real Estate !>
---
Sunny Home Fuchu (Katsushika-ku, Tokyo) Sta: Yaho 11min. walk (JR Nanbu Line) Rent: ¥32,000/M Facility: ¥3,000+/M
Space: 17.3sqmt (1B+K+BT)
* 1F, AC, IH cooking heater
GOOD ROOM TOKYO
Tel. 03-3475-0510
www.goodroom.online
---
Sunamachi Heights (Tachikawa-City, Tokyo) Sta: Musashisunagawa 5min. walk (Seibu Haijima Line) Rent: ¥28,000/M Facility: ¥5,000+/M Space: 22.2sqmt (1B+K+BT) .
* 2F, CATV, Large Studio room, Clean, AC, About 50min to Ikebukuro.
GOOD ROOM TOKYO
Tel. 03-3475-0510
www.goodroom.online
---
Takasago Daini Apartment (Katsushika-ku, Tokyo)
Sta: Aoto 12min. walk (Keisei Line)
Rent: ¥38,000/M Facility: ¥5,000+/M Space: 17.9sqmt (1B+K+BT)
* 1F, AC, Walking distance to Tokyo Skytree
GOOD ROOM TOKYO
Tel. 03-3475-0510
www.goodroom.online
---
Furnished private 6-tatami-room in a unit of a quiet condominium..32,000 yen. No key money. Deposit 20,000yen. free Wi-Fi. Good location. Supermarket and Seven-Eleven nearby.9 minutes to station of Wako-shi on Tojo Line.12 minutes from Ikebukuro. Yurakucho subway line and Fukutoshin Line (Shibuya, Yokohama) available.. Owner is translator of French & English interested in cross-cultural exchange. Long stay welcome.
(048) 466-3665 IDA
---
Koyanagi Apertment (Fuchu-City, Tokyo) Sta: Tamareien 5min. walk (Keio Line)
Rent: ¥35,000/M Facility: ¥5,000+/M Space: 19.5sqmt (1BR+K+BT)
* AC. 1F, Loft Space, Balcony, Bicycle parking
GOOD ROOM TOKYO
Tel. 03-3475-0510
www.goodroom.online
---
Matsunoki Nichome Apartment (Suginami-ku, Tokyo) Sta: Shinkoenji 12min. walk (Subway Marunouchi Line) Rent: ¥45,000/M Facility: ¥4,000+/M Space: 9.3sqmt (Studio+BT) . * 1F, CATV, Loft Bed space, Clean, AC, Residential area.
GOOD ROOM TOKYO
Tel. 03-3475-0510
www.goodroom.online
---
Kyodo House (Setagaya-ku, Tokyo) Sta: Kyodo 5 min. (Odakyu Line) Rent: ツ・47,000/M Facility: ツ・4,000+/M Space: 13.1sqmt (1BR+K+BT)
* AC, 2F, Private room with Bath & Toilet, Small kitche, Fridge.
GOOD ROOM TOKYO
Tel. 03-3475-0510
www.goodroom.online
---
Tsutsujigaoka 2 Apartment (Chofu City, Tokyo) Sta: Tsutsujigaoka 5min. walk (Keio Line) Rent: ¥44,000/M Facility: ¥2,000+/M Space: 16.8sqmt (1B+K+BT) .
* 1F, CATV, IH cooking heater, Clean, AC, Residential area.
GOOD ROOM TOKYO
Tel. 03-3475-0510
www.goodroom.online
---
Hello from ELM. We are a newly built share house located near Nakano Broadway, equipped with air-cons, beds, tables and closets!! The house is made of concrete with steel doors + lock with key. You have your own cable TV with 2GB speed, unlimited wifi internet connection speeds + Netflix. There is also an English conversation lounge on the first floor where you can teach and study English or Japanese, play PS4, VR and Switch. We also provide bikes and car free to use anytime. 5 mins to Shinjuku, Roppongi 16 mins by train, Takadanaba 4 mins by train. Rooms start from 45,000 and up. This is for a limited time only. Please contact ASAP if you want first picks on the rooms. Please contact us at 080-9891-7770 or share@elm-english.comCome and join us at ELM.英語マンション(English Language Mansion)へようこそ!!中野駅から徒歩10分、中野ブロードウェイ近くに新設された家具(エアコン、ベッド、机、椅子等)付きシェアハウスです!建物構造はコンクリート造で各部屋は鉄製ドア(鍵ロック付き)で分かれています。各部屋ではケーブルテレビ(2GB)、繋ぎ放題のWi-FiとNetflixが利用可能です。1階の英会話ラウンジでは英語や日本語を教えたり、逆に学んだり、語学の交流もあります。またゲームに興味がある方はプレステーション、VR、Switch などで遊べます。自転車と自動車は空いていればいつでも無料でご利用出来ます。電車で新宿まで5分、六本木まで16分、高田馬場まで4分の好立地。家賃:月45,000円?(期間限定キャンペーン中)お部屋が埋まり次第募集を終了致します。先着順なのでご興味を持った方は是非ご連絡下さい
(電話:080-9891-7770 メール:share@elm-english.com)
---
Kokubunji June Flat (Kokubunji-City, Tokyo) . Sta: Kokubunji 7min. walk (JR Chuo Line) Rent: ¥47,000/M Facility: ¥3,000+/M Space: 16.7sqmt (1B+DK+B+T) * 1F, AC, Academic area, Sunshine, Balcony
GOOD ROOM TOKYO
Tel. 03-3475-0510
www.goodroom.online
---
Sky Kokuryo Apartment (Chofu City, Tokyo) Sta: Kokuryo 7min. walk (Keio Line) Rent: ¥42,000/M Facility: ¥4,000+/M Space: 17.0sqmt (1B+K+BT) . * 2F, CATV, Fridge, Clean, AC, Very convenient area.
GOOD ROOM TOKYO
Tel. 03-3475-0510
www.goodroom.online
---
Tachikawa 103 House (Tachikawa-City, Tokyo) Sta: Tachikawa 8min. walk (JR Chuo Line) Rent: ¥46,000/M Facility: ¥3,000+/M Space: 11.5sqmt (1BR+K+BT)
* Near shopping area. AC. 1F, Loft, Wooden floor
GOOD ROOM TOKYO
Tel. 03-3475-0510
www.goodroom.online
---

Private Furnished Rooms ¥39,000~¥69,000 (All Included) / m Komazawa, Yoga, Asakusa, Shinbashi. 女性も安心!全室インターネット、家具付き個室 お気軽に
090-3674-0866 www.tokyointerhouse.com
---

Dormitory 24,000yen-33,000yen/30days.
TenTen GH,8mins walk from JR-takadanobaba sta.(near Shinjuku) 女性専用部屋あり!
http://www.tokyo-guesthouse.com TEL 070-5652-8628.(10:00-20:00)
---

Dormitory 27,000yen-33,000yen/30days. GH Shinjuku. 1min. walk from Waseda sta. (Toei Arakawa Tram line). http://www.guesthouse-shinjuku.com 日本人も大歓迎!!
Call 070-5652-8628. (10:00-20:00).
---

Dorms in Kagurazaka, Shijuku-ku.27, 000yen/30days?3 mins from Metro Tozai Line, Kagurazaka Sta. Tel: 070-5016-1163, Web: www.guest-house-tokyo.com 
Female dorm available. 女性ドミ有。
---
---
M・K TOKYO
★3 minutes to Ikebukuro, 7 minutes to Shinjuku and 14 minutes to Shibuya Good access!!
★Building interior is the theme of Cebu language school ★The latest, comfortable, stylish home appliances are enriched ★Auto lock type card key system, unlimited internet use Room rent: Dormitory 39,000 yen, Private 55,000 yen ~ No Key money/guarantor/agent fee https://tokyosharehouse.com/eng/house/detail/3018/
E-mail: mkt@sharelife.co.jp
Facebook:https://www.facebook.com/ShareLifeJPN
---
Seiseki Share House (Tama City, Tokyo) Sta: Seisekisakuragaoka 3min. walk (Keio Line) Rent: ¥30,000/M Facility: ¥15,000+/M Space: 10.8sqmt (1BR) Share Kitchen, Bath, Large common Living Room. * Private Bed Room, AC, 1F, Male & Female
GOOD ROOM TOKYO
Tel. 03-3475-0510
www.goodroom.online
---

【J&F House Shinjuku】
Fully furnished share house available 3min walk from TOKYO METRO SHINJUKU 3-CHOME STATION. No agent fee, no key money, no guarantor. Free internet services avaialble. Rent 78,000yen (including utilities) Tel: 03-6455-0360 We have more properties! 日本語でもお問い合わせください!J & F HOUSE Tel: 03-6455-0360 
e-mail: info@jafplaza.com
http://www.jafnet.co.jp/plaza/en/?action_obj
=Estate&action=detail&estate_code=1&room_code=1
---
---
---
Narihira Office & Bed (Sumida-ku, Tokyo) Sta: Oshiage 3min. walk (Subway Asakusa Line) Rent: ¥52,000/M Facility: ¥4,000+/M
Space: 7.5sqmt (1B loft+Toilet&Shower+Desk)
* 2F, AC, Near Tokyo Skytree, Soho Office. Refrigerator.
GOOD ROOM TOKYO
Tel. 03-3475-0510
www.goodroom.online
---
Ikebukro Tosen Building (Toshima-ku, Tokyo) Sta: Ikebukuro 10min. walk (Yamanote Line)
Rent: ¥39,600/M Facility: ¥3,000+/M Space: 5sqmt (1BR+K+BT)
* 6F, AC, Share Toilet and Shower, Office OK
GOOD ROOM TOKYO
Tel. 03-3475-0510
www.goodroom.online
---

Stylish Office & Teaching Space 2min from Harajuku Stn. Conference room, communication space, traditional tea ceremony room, all for rent. Perfect for private teaching lessons.Color laser printer, triple-locking system for security, dedicated internet lines in every room, From ¥49,000/m. Short term OK. 090-2405-0022 mail@bauhousetokyo.com
---
---
| | |
| --- | --- |
| | Mayflower Osaka guesthouse, located in central Osaka, private room with kitchen, toilet & bath 46,000/month~. Please call 03-3560-7405 or 080-5436-1777. |
---

Naha, Okinawa. Guesthouse 'Kerama' 1000yen/day~. tel:098-863-5898 http://www.guesthouse-okinawa.com/index-english.html CamCamOkinawa 800yen/day~. Tel: 098-863-0022 http://www.camcam-okinawa.com/
---
---

ADS WANTED
---
---

1 day 3,000 yen. short days. I cook for you. Good hospitality.
I hope you can relax rest here.
tomoko-japonm@excite.com
---

Free room for language exchange in Yokohama, I am a Latin businessman, I am looking for a woman to share culture and business any nationality is welcome Email: loveclave@hotmail.com
---
Cozy room is waiting for new tenant.
There is a bed, TV, private refregilator, microwave. Utility which is electric, gas,wifi and water is included.
the rent is 65000yen.
the location is great, there is a lowson in front of this building and 5 minits walk take you to Ohyama station, Tobu Tojo line. E-mail =takaness@gmail.com
---
Large sunny private room. All furnished.
Very convenient location, a lot of shops around the building and 5min walk to nearest station.
Close to Shinjuku, Shibuya, Harajuku, Shimokitazawa, Sangenjyaya etc...
E-mail =718fifthavenue@gmail.com
---
Links


Private furnished rooms in Tokyo with free internet. Call us first or call us last!

Hassle free moving starts from 6000yen.


Very flexible working hours to effectly help you with moving, deliveries, disposal, storage and more!

We'll cut you the best air ticket deals anywhere.

Discount air travel & package tours 2min from Roppongi Stn.

We go the extra mile for you. International air tickets and hotels.

Top-value travel to Kyoto, Osaka, Nagoya from Tokyo by Shinkansen.

| | |
| --- | --- |
| All kinds of Visa, Immigration & Naturalization, International Marriage etc. | Licensed immigration lawyer & certified public tax consultant. |
American Pharmacy

English speaking pharmacy since 1950.

EU-licensed multi lingual doctors.
Japanese Appliance, Watch, Souvenirs

1st Sat. & 3rd Sun. at Bari n Roppongi ETC.


Picnic, Parties, Language exchange
| | |
| --- | --- |
| Japanese women & Western men. | |